The name of our event "Milongueando" derives from the Spanish verb "milonguear", which translates to "enjoying oneself at the milonga".
From 2009 to 2016, Leonel and Florencia organized Milongueando annually. To rekindle the spirit of milonga once again, they, alongside Suri, are reviving Milongueando this November.
Our special guest of honor is Hernán Alvarez Prieto, a renowned milonguero and DJ. He will not only grace us with his music, but also impart knowledge through five insightful seminars on DJing and the Big Four tango orchestras. The event will feature three nights of milongas, filled with classic tango music.
We invite all who love tango and its music to join us for an unforgettable weekend at Milongueando!

⦁ All 5 classes will be conducted in English and Korean.
⦁ The Big Four Orchestras music seminars are going to be held in Tango Brujo. The DJ Class venue is in Hongdae and will be announced later.
⦁ We can only accept a limited number of participants in each class and milonga. Please note that registration is not possible after the limit is reached.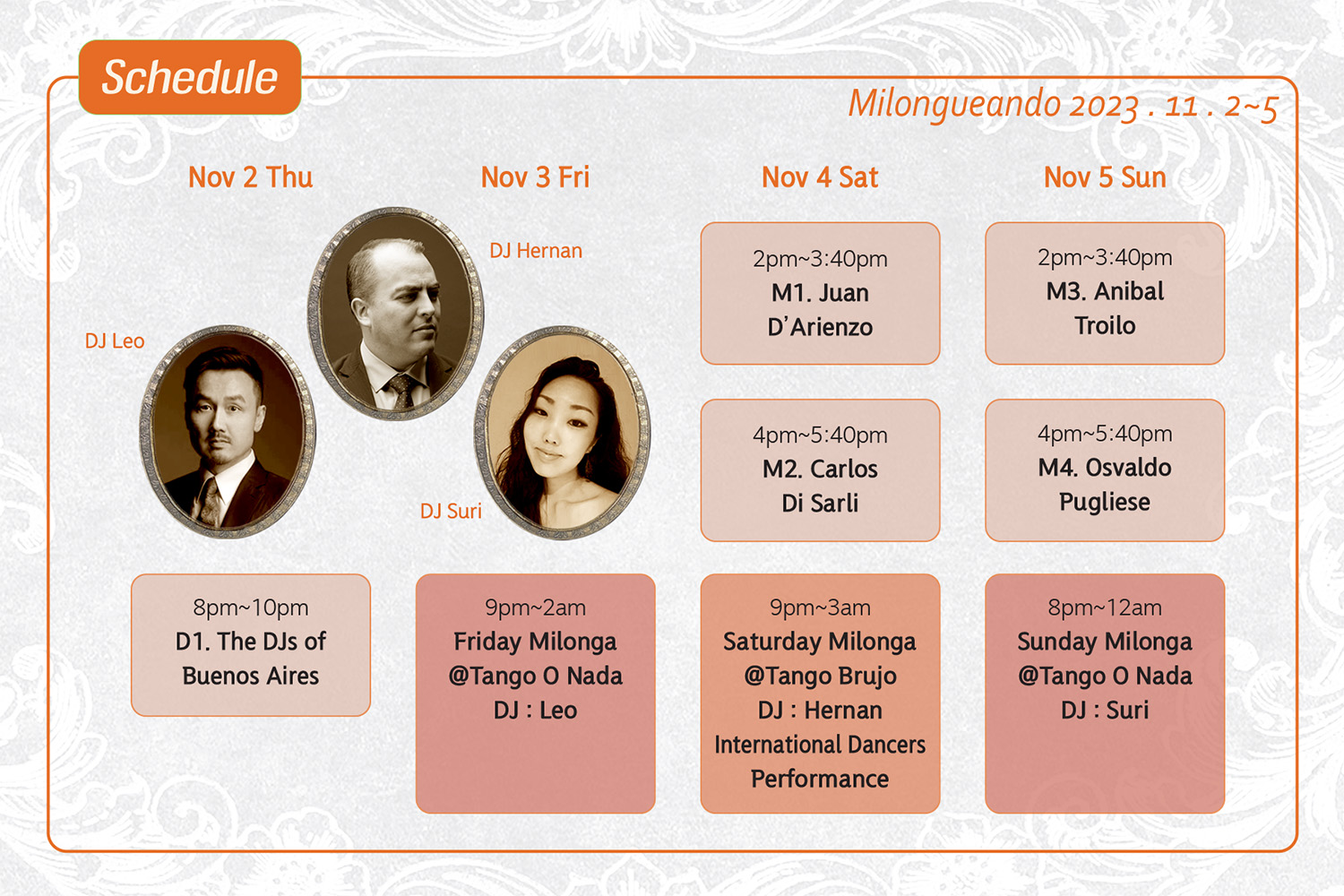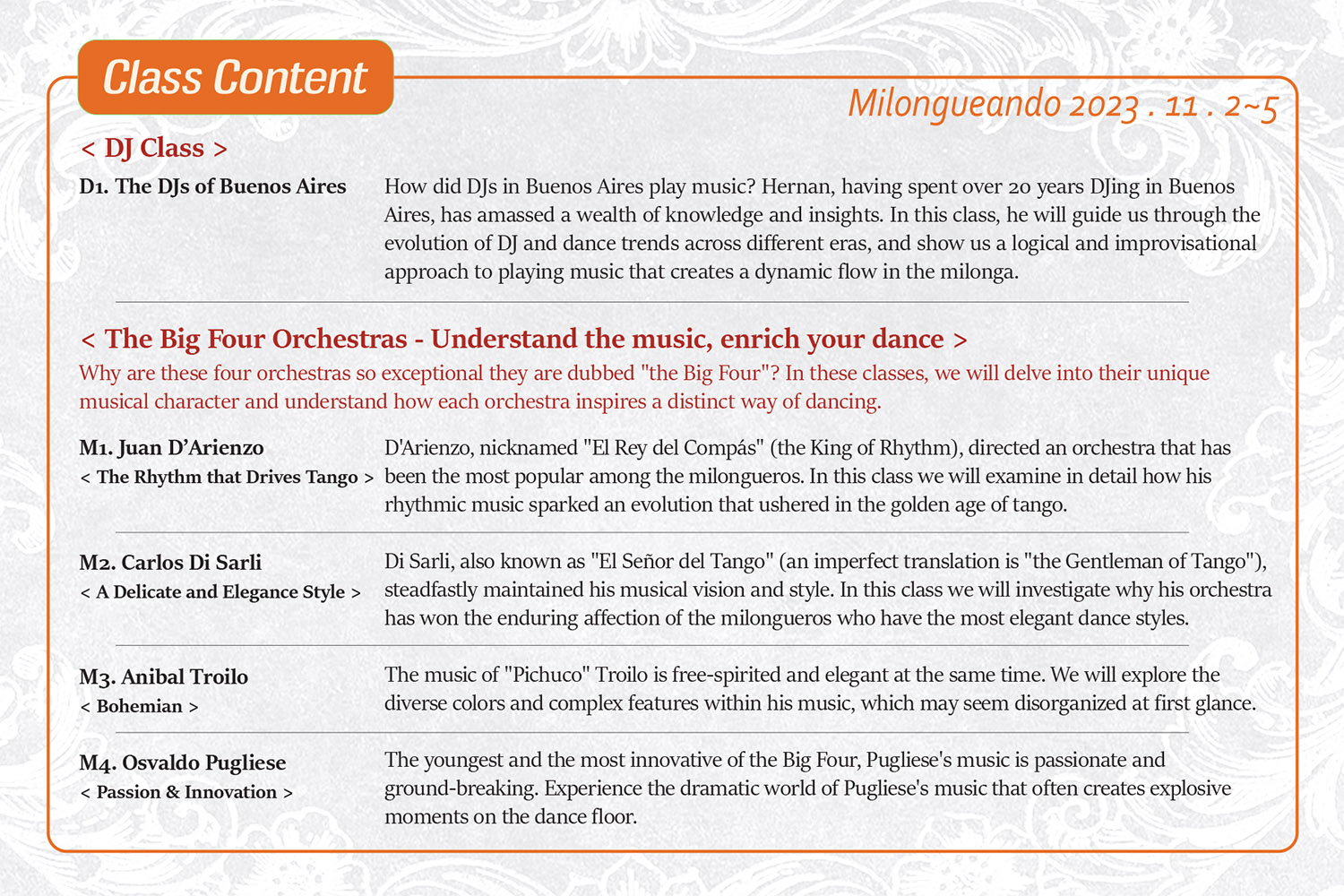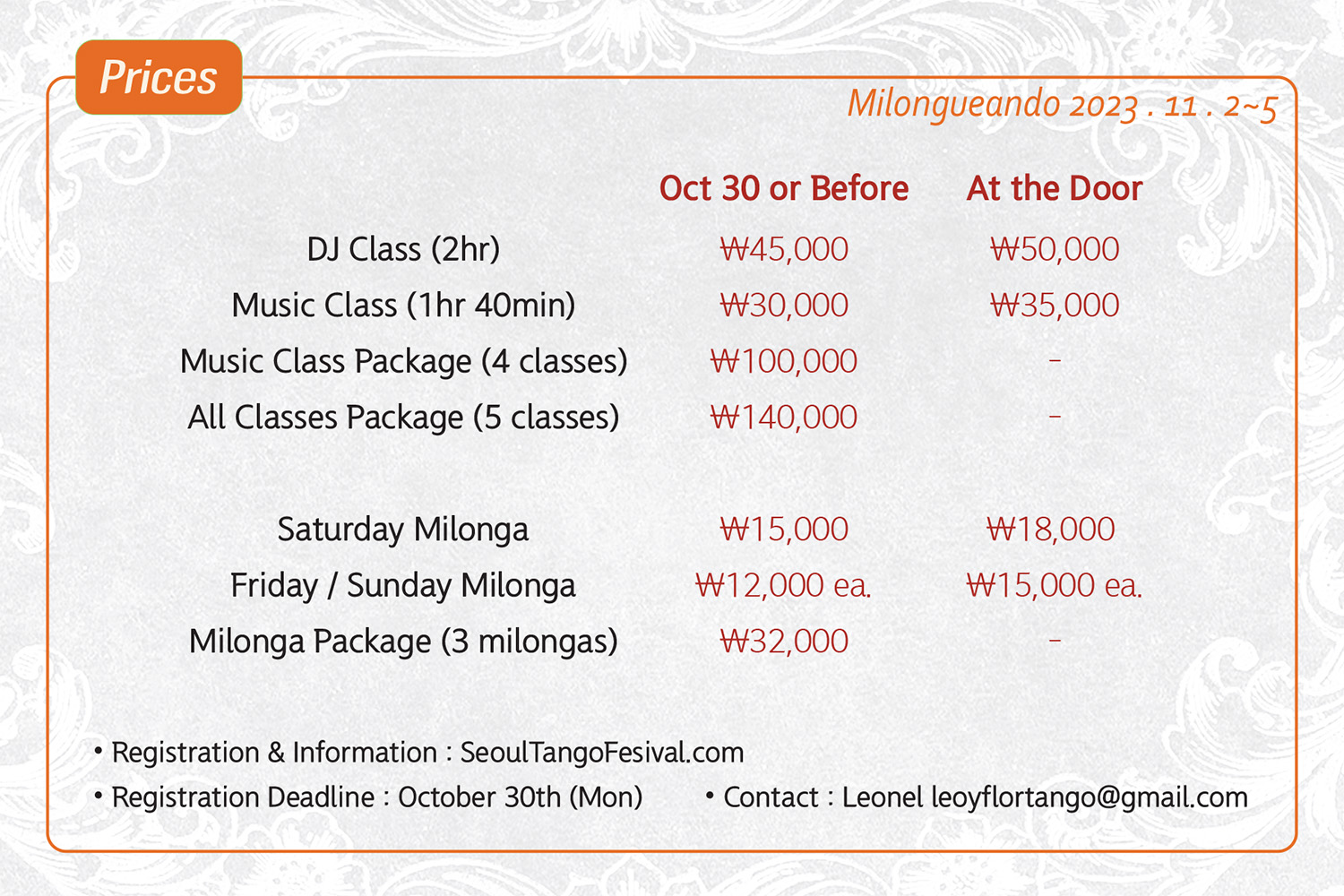 Hernán Alvarez Prieto DJ Profile
Hernán began DJing in 1998, a time when music was played on cassette tapes and CDs. As of 2023, he has been a regular DJ at many major milongas in Buenos Aires. Hernán is a traditional DJ who values the balance of orchestras. He chooses music that is the most important to the milongueros of the Golden Age. He has been invited to DJ at many international festivals in Europe, the United States, Canada, and Asia.
⦁ Parakultural Salón Canning
⦁ Lo de Celia
⦁ Club Bohemios
⦁ Cachirulo
⦁ Obelisco Tango
⦁ Domingos de El Beso
⦁ Obelisco Tango
⦁ La Nacional Tango
⦁ Boedo Tango
⦁ Lujos de El Beso
⦁ Porteño y Bailarín
⦁ Centro Región Leonesa
⦁ Centro Cultural Torcuato Tasso
⦁ La Milonguita en Maipú 444
⦁ Club Platense
⦁ Centro Montañes
⦁ Confitería Ideal
⦁ Plaza Bohemia
⦁ El Pial
⦁ Amberes Tango Festival 2016/17
⦁ Chicago Mini Tango Festival 2017
⦁ Sientome Tango 2018(Shanghai)
⦁ Toronto Tango Club
⦁ Tango Soul(Toronto)
⦁ Milonga Maleva (Toronto)
Cancellation Policy
• Final registration deadline : October 30th, 2023
• After the deadline we cannot process any new registrations, cancellations or changes to existing registrations.
• Changes & Cancellations
• On or before the registration deadline changes to existing registrations are possible. Please send us your requests to suri.bae@gmail.com.
• For persons living in Korea, there is a ₩10,000 handling fee per cancellation request.
• Additional penalty for cancellation:
• Within one week of registration deadline – 30% penalty (30% of the fee that you are cancelling)